A basic pool package typically includes the following 6 items:
20 gauge blue overlap liner (included with pool). Upgrades available.
Thru-wall skimmer (included with pool)
Filter System
Pool Ladder
Maintenance items (ex. vacuum, leaf net, telescopic pole, etc.)
Pool Chemical Kit
Here is an example of a pool and the items you would need for a basic pool package. Click on the "Customize" button for the pool model you are interested in and add any accessory you'd like.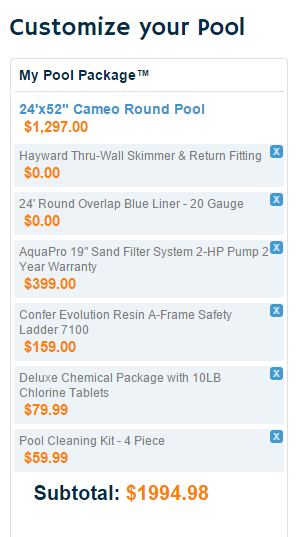 Popular additional options include:
Upgraded Pool Liner
Liner Floor Pad
Pool Cove
Automatic Pool Cleaners
Pool Covers (Winter and Solar)
Underwater Pool Light